A

n unparalleled
success
✻
It was Paul Gineste de Saurs who, in 1959, first created the menu in a brasserie called « Le Relais de Venise-Son Entrecôte » at the porte Maillot in Paris.
His daughter Marie-Paule perpetuated the two values who have always guided her father, love of good food and quality requirement, by setting up the Relais de l'Entrecôte.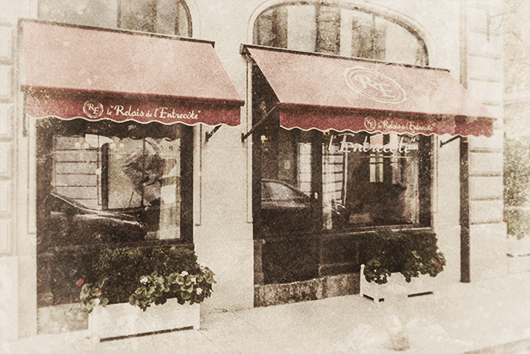 The Relais de l'Entrecôte is a real Parisian bistrot: sophisticated, elegant and well-run.
The Relais de L'Entrecôte's walnut salad, tender sirloin steak served with its famous sauce and golden thin-cut French fries, as well as its delicious desserts, have been a mark of success for decades. The wines from Château de Saurs, all organic, complement the Relais de l'Entrecôte's menu perfectly.
The efficient yet friendly service maintains the values of the company in a warm setting of wood panelling, mirrors and vintage posters.
Our tables are covered in red, yellow, blue and green tablecloth and a glazed and embossed white paper. Our waitresses wear a faultless uniform of a black dress with a white collar and an apron.